A Unique Program
The Kellogg-HKUST Executive MBA program is carefully designed for busy executives. It only requires around 40 days out of the office. It includes 18 weekends, 2 immersive study weeks, a 9 day global network week, and global elective weeks with participants from 6 campuses around the world.

PROGRAM DESIGN
The class schedule is uniquely designed around weekend blocks to allow you to continue your careers while you study. Program classes are held on Friday afternoons, Saturdays and Sundays.
LIVE-IN WEEK AND GLOBAL NETWORK WEEK
The program starts with an Live-In Week. It is a critical time for the development of class identity and bonding, and for the formation of study groups.
The Global Network Week is the cornerstone of the program. Over 9 days, you study with executives from Kellogg's global network of joint programs from Asia, the Middle East, Europe and North America. It is an exchange of knowledge and experience that creates long lasting friendships within a worldwide network of executives.
IMMERSIVE STUDY WEEKENDS – MODULE 1 TO 10
Participants meet twice every month during weekends. The immersive study weekends emphasize on student participation and discussion, and foster the highest level of interaction and engagement. It is ideally suited for the schedule of senior executives.
GLOBAL ELECTIVES
The global electives are an excellent opportunity for students to meet and interact closely with fellow global students. During this global elective week, students choose courses at Kellogg partner schools and are divided into groups for assignments and projects. A total of 500 Executive MBA students are in this global network annually which reflects the true global network of the Kellogg-HKUST Executive MBA program.
A TYPICAL WEEKEND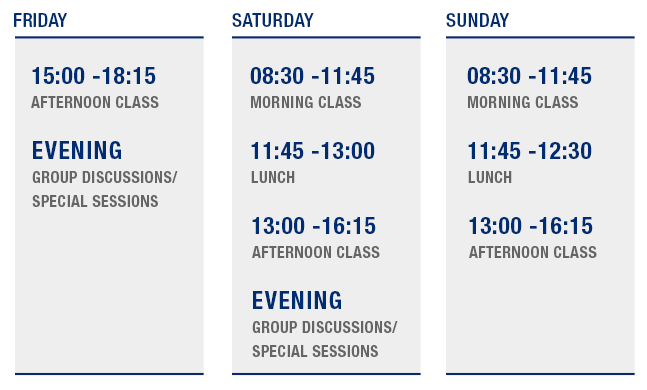 LIFELONG LEARNING AND NETWORKING
The benefits of a Kellogg-HKUST Executive MBA graduate will last throughout your career and lifetime. Through our alumni network, you will have connections to more than 130,000 graduates and an exceptionally responsive group of high-impact, low-ego leaders who hold top positions at some of the world's most respected organizations. You'll have access to a wide range of events and opportunities for broadening your professional network, sharpening your skills or socializing with other business leaders.
The Kellogg-HKUST Executive MBA Program values lifelong education. As a graduate, you are invited to come back and audit courses for a lifetime. This exclusive benefit gives you unlimited access to top-tier faculty while expanding your knowledge or exploring new management topics, on any of our campuses in the Executive MBA Global Network.